Our Veterinarians
The O'Connor Road Animal Hospital team of skilled veterinarians welcomes you to our practice. Proudly serving the San Antonio area. At O'Connor Road Animal Hospital, it is our daily privilege to provide quality vet care to your cherished pet, with compassion and competence. We hope to ensure a positive impact on our patients, pet owners and the local community.
Cheryl Zengler
Managing DVM
I was born and raised in New Braunfels, TX. I moved to Alpine, TX for undergrad at Sul Ross State University. Then, I spent 2 years in Midland, TX to become a Registered Veterinary Technician. Then I went to Texas A&M for Vet School. Finally, I came back home to family and my church and have been here ever since. I am now the Managing Veterinarian at O'Connor Road. I have 2 dogs, Willow Sr. and Jager. Willow Sr. is a black lab mix who is very sweet and patient with the kids. Jager is a chocolate lab who is a perpetual teenager and a lot of fun.. Time outside of work is devoted to my kids and husband. If there is ever any down time I enjoy jigsaw puzzles, counted cross stich, and reading books.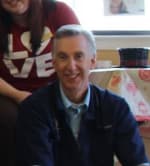 Eric Schmeltzer
DVM
Bio coming soon!
Julio C. Montero​
DVM
On The Job
Dr. Julio C. Montero was born and raised in Puerto Rico where he worked as a wildlife biologist at the Department of Natural Resources and later as an Instructor at the Biology Department at the University of Puerto Rico in San Juan. He relocated to the United States and pursued a career in veterinary medicine shortly after Puerto Rico was hit by Hurricane Hugo in 1989. He received his veterinary education at Purdue University graduating in 1994. After practicing for 2 years in Orlando, FL he commissioned as an Officer in the United States Army Veterinary Corps in 1996 and served for 20 years. He retired with the rank of Lieutenant Colonel in 2016. After retirement he resumed practicing small animal and exotic medicine.
Education
Diplomate, American College of Veterinary Preventive Medicine (2008)
Graduate Certificate in Veterinary Homeland Security, Purdue University (2010)
Doctor of Veterinary Medicine, Purdue University (1994)
Master of Public Health, University of North Carolina at Chapel Hill (2002)
Master of Agriculture (Poultry Science), Texas A&M University at College Station (2016)
Master of Science (Biology), University of Puerto Rico (1987)
Off Duty
Dr. Montero enjoys spending time with his wife and kids. He also runs a small poultry and goat adventure at a small farm in Cibolo, TX.
Sara Denk
DVM
Dr. Denk grew up in Chicago. Prior to attending Veterinary school, she worked at the Chicago Board of Trade and was also a dog trainer. Dr. Sara Denk received her Doctorate in Veterinary Medicine from Ross University in 2015 and completed a one-year clinical rotation at Iowa State University. She has a strong interest in Veterinary Behavior Medicine and Soft Tissue Surgery.
Dr. Denk worked at a 24-hr small animal primary care/emergency hospital in San Antonio, TX, before moving to the Pacific Northwest, where she worked at a walk-in-only day practice. She has recently returned to San Antonio and is excited to join our team. She enjoys staying active, working out, and playing sports. She also enjoys traveling and spending time with friends, family and her three dogs, Sage, Sprout, Bullet, and her cat, Marcus.